…
Tokio Hotel shared a link earlier today on their official facebook page. It is a playlist from their official Spotify account. Sadly, Spotify isn't available in Canada, though we have some captures from other street teams ! There's a secret message in their playlist that tells the name of the new album, which is "Kings of Suburbia". We have no official confirmation from the group for now, but it should release on October 3rd. It could be either the single or the album. Moreover, the album is already on Amazon and on the French site "Fnac" and it's possible to pre-order it. Both sites are reliable, but we still think it is better to wait until the band announces it clearly. Anyway, we have good reasons to be excited! According to these sites, there are three different editions of the new album, in English. There's one with 11 titles, another one with 15 and a DVD, and the last one has 5 cds (to be honest, that's a lot!) and there are also old songs on it like Mädchen aus dem All and Nothing's like before (from Devilish). As soon as we have more information, we'll post a new article on tokiohotelcanada.com ! We will keep you posted! 😉
_________________________
.
Tokio Hotel a partagé un lien aujourd'hui sur leur page officielle Facebook. Il s'agit d'une playlist qui se trouve sur leur compte Spotify. Malheureusement, Spotify n'est pas disponible au Canada, mais nous avons tout de même les captures des autres équipes de rue! Il y a un message codé dans leur playlist qui dévoile le nom du nouvel album, qui se nommera : "Kings of Suburbia". Nous n'avons toujours pas de confirmation du groupe pour le moment, mais la date de sortie serait fixée pour le 3 octobre. Ce pourrait être le single ou encore l'album. De plus, l'album est déjà affiché sur Amazon et sur la Fnac, et il est possible de le précommander. Les deux sites sont fiables, mais nous pensons quand même qu'il est préférable d'attendre que le groupe l'annonce clairement. Peu importe, nous avons de très bonnes raisons de nous réjouir! Sinon, selon les sites, il existerait trois éditions différentes de l'album, en Anglais, dont une comprenant 11 titres, une autre en comprenant 15 + un dvd, et une dernière qui a cinq cds (ce qui fait beaucoup, non?) et qui a aussi des vieilles chansons en bonus telles que Mädchen aus dem All et Nothing's like before (de Devilish). Aussitôt que nous aurons plus d'informations, nous posterons un nouvel article sur tokiohotelcanada.com ! Nous vous tenons au courant ! 😉
…
By the way, Lauren Paul, who won the Monsoon contest last year, said that she listened to the song "Kings of Suburbia" when she went to their studio in California and that it's her favourite new song so far!
En passant, Lauren Paul, qui est allée au studio de Tokio Hotel l'an dernier, a dit qu'elle a entendu la chanson "Kings of Suburbia" et que c'était sa nouvelle chanson préférée jusqu'à présent!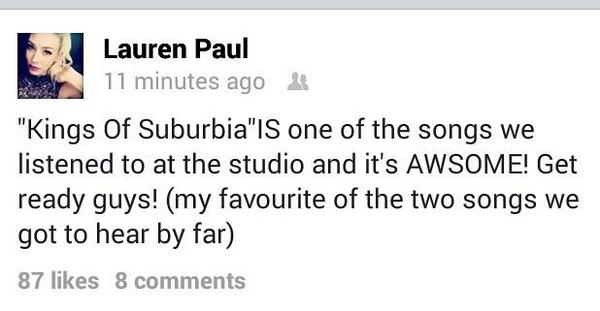 …
On the picture below, you have the Fnac on the left and Amazon.com on the right. This is not confirmed yet – so don't take it too seriously – but these are possibly the titles of the new songs.
Sur la photo ci-dessous, vous pouvez voir le site de la Fnac à gauche et celui d'Amazon.com à droite. Ce n'est pas encore confirmé – alors ne prenez pas trop cette information au sérieux -, mais ce sont possiblement les noms des nouvelles chansons.
.
.